Haliburton, Muskoka, Kawartha Lakes Children's Water Festival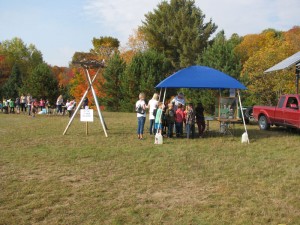 Since the creation of the Friends of the Osprey, a major focus of the organization has been the involvement of youth education specifically
pertaining to Osprey. The importance of teaching youth about environmental stewardship and promoting understanding of nature is essential.
Presentations, farmers markets, festivals and workshops provide a way of bringing this education to elementary, high school and postsecondary
students. This year will be the third consecutive year which Friends of the Osprey has been involved with the Haliburton, Muskoka, and Kawartha Lakes Children's Water Festival. This is a large event which allows upwards of 1200 youth in grades three to six to learn about the connected nature of wildlife, waterways and the ways humans can influence this balance.
Camp Kinark – Carnarvon September 28 ‐ 29, 2015
Cancelled until Next year
Each year the Friends of the Osprey participates in the Haliburton, Muskoka, Kawartha Lakes Children's Water Festival. We erect an impressive display and are one of the most popular exhibits. The local school boards bus in over 1000 elementary school children to learn of the importance of protecting our waters, from wetlands to rivers and lakes to drinking water. This year's event is Monday, Sept. 28 and Tuesday, Sept 29 at Kinark Outdoor Centre west of Carnarvon.
We need some people to help with our presentation. Groups of 6 to 12 students rush in, all talking and asking questions at the same time. We need about 3 people to keep order, do our presentation and answer questions. If you enjoy children please consider helping. You don't need to be an expert, the questions are always the same and you will be given the prepared script. The hours are 9:00 am to 2:30 pm. It is outdoors but we have a sun and rain shelter. It is always a fun time.